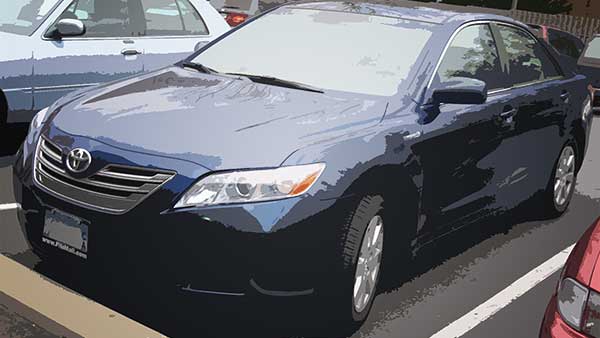 When Toyota announced the Camry Hybrid for the 2007 model year, there was understandable excitement. Toyota had a strong track record of hybrid success with the Prius, and the Camry has always been a popular everyday car, so it seemed like a natural match.
But here's a simple rule when it comes to first generation products — just don't buy them. Let someone else be the guinea pig.
From a sales standpoint, the Camry Hybrid was a success. By December 2009 it was the 3rd best selling electric hybrid car in the US market.
The Camry Hybrid offered a substantial upgrade in city MPGs making it a great option for commuters. It coupled an efficient 147 horsepower Atkinson-cycle engine with a 45-horsepower electric motor, driven through a Continuous Variable Transmission (CVT).
2007 Camry MPG: 22-24 city / 31-34 hwy
2007 Camry Hybrid MPG: 40 city / 38 hwy
So where did it go wrong?
1. It Borrows Problems From the Camry
The 2007 hybrid isn't a built-from-the-ground-up situation. It's really just a Camry with a plug™. In other words, the two cars share a lot and that's not always a good thing.
Let's start with excessive oil consumption, a problem that has affected a number of Toyota vehicles between 2006 and 2011. Owners say their car can burn through a quart of oil every 1,200 miles or faster. Unless you check the oil every time you leave your house, and I'm going to guess you don't, you run the risk of burning out your engine when it runs out of oil. Toyota has denied warranty coverage for oil-related problems for years, claiming this is normal which prompted law firms to look into the possibility of a class-action lawsuit.
Both the Camry and Camry Hybrid have terrible brake problems, but only the hybrid was involved in a brake-failure investigation by the National Highway Traffic Safety Administration (NHTSA). After seven months the investigation was closed once Toyota agreed to a "limited service campaign" to replace the brake reservoir. Basically, a recall-lite.
2. It Feels Cheap Despite the High Price Tag
When you pay the hybrid premium, that doesn't come with extra bells and whistles. While some manufacturers only offer hybrid models in upgraded trims, the 2007 Camry Hybrid was pretty basic and came with visors that break, dashboards that melt, and chipped paint.
3. Battery Replacement Cost is Insane
Batteries aren't cheap and need to be replaced eventually. The battery technology used in hybrids is part of the reason they cost so much more. Luckily, you're not supposed to have to replace them that often.
Unfortunately, some have complained that the hybrid battery is weak and needs to be replaced earlier than they thought. For the 2007-2011 Camry Hybrid, that battery costs $4,892.
Four thousand, eight hundred, and ninety two dollars. How many miles would you have to drive in a hybrid to save that much money?
The price of the battery can be reduced by $1,350 with a "core credit" through a long-established Toyota program.